Also: Rosa (née Wertheimer) & Jakob EDELMUTH
Both Nathan Wertheimer and Malwina Frankenber were born in the same year, 1859, in the same village — Marisfeld close to Themar. Both families had roots in the village going back into the 1700s: Nathan's grandfather was Jacob Samuel Wertheimer, b. 1768; Malwine's grandfather was Nathan Jonas Frankenberg, b. 1770.
We do not know as yet whether Nathan and Malwine came to Themar as individuals or as a married couple. From the birthdates of their children — Julius, b. 1886, Rosa, b. 1887, and Bella, b. 1890 — we know that they were living in Themar by the mid-1880s. The address we have for them is Mangersgasse 85.
The family of five moved from Themar to Coburg in the 1900s, probably in the years around WWI. Coburg was a much larger place than Themar: in the early 1900s the city had some 20,000 citizens, including 205 Jews; by 1925, the population total was 25,000 residents, including 316 Jews. Julius established himself as a butcher in the center of the city. Nathan identified himself as a businessman dealing in property, etc.
All three children married: Julius married Käthe Meinstein, b. 1896 in Zirndorf/Bavaria, and they had two sons, Heinz, b. 1926, and Aflred, b. 1930. Rosa married Jakob Edelmuth of Beuern (near Giessen), a businessman or 'Kaufmann'. The Edelmuths settled in Dessau in Anhalt, north of Coburg, at Franzstrasse 3-4. In 1921, Bella married a cousin, Milton Wertheimer, b. 1886 in Themar, the son of Louis and Emma (née Frankenberg) Wertheimer. They lived in Coburg, and Milton travelled frequently to other places throughout eastern Germany. Milton's younger brother, Nathan, also lived in Coburg, with his wife Else, née Frankenberg, a Coburg-born woman.
In 1926, Malwine Wertheimer died of diabetes complications and was buried in the Jewish cemetery of Coburg. In October 1934, Nathan. age 75, moved to Dessau to live with daughter Rosa and her husband Jakob Edelmuth; Nathan died in Dessau a year later, on 18 October 1935.
*****
Some members of the Wertheimer extended family left Germany after the Nazi Regime took power. Julius Wertheimer and his family were the first to leave — in June 1936 — sponsored by an uncle, Joseph Kaltenbacher. Milton's brother, Nathan, and his wife Else, left Germany in February 1938 for Argentina.
Others did not leave until after the Reichspogromnacht of 9/10 November 1938. But the harrowing events of that night prompted the Edelmuths and Milton Wertheimer to seek refuge in Holland. Rosa and Jacob left in February 1939 before Holland closed its doors to the inward flood of refugees; they settled in Rotterdam. Milton Wertheimer came sometime later that year and lived in Amsterdam at a variety of addresses, indicating his probably illegal status in the Netherlands.
Thus at the outbreak of WWII, only Bella remained in Germany. Since 1935, she had worked in the kitchen at 'Hohe 30', the boarding school for Jewish boys run by Hermann Hirsch. Whether she was hoping to move to Holland to join her husband Milton, or perhaps to flee to America sponsored by her brother Julius, we do not know. On 9 November 1938, the Jewish school where she both lived and worked was smashed, the school director was arrested and sent to Buchenwald, and the school closed. Bella left Coburg on 7 March 1939, and we find her bouncing back and forth between the towns of Marisfeld/Themar and Meiningen. When the Nazis halted emigration in October 1941, her fate was sealed. On 10 May 1942, Bella was rounded up in Meiningen and taken to Weimar and on to Belzyce Ghetto. Her fate is known as 'verschollen' — 'disappeared'. Bella was 52 years of age.
Unfortunately, emigration to Holland did not provide refuge for Bella's husband or sister. The invasion of the Netherlands in May 1940 had more or less trapped them even though the first years of Nazi occupation were somewhat bearable. But on 15 July 1942, the deportations from the transit camp of Westerbork began and the trains went direct to Auschwitz. On 3 October 1942, Rosa and Jacob Edelmuth were rounded up in Rotterdam and taken to the transit camp of Westerbork where they remained imprisoned for six months.
On 22 April 1943, Rosa and Jakob were taken to Amsterdam and deported from there to Theresienstadt Ghetto. This was the first transport of Jews from Holland to Theresienstadt Ghetto, rather than directly to Auschwitz or Sobibor. The 286 people transported were exclusively German Jews, who were duped into believing that they were going to a retirement settlement. Milton Wertheimer, who had still living in Amsterdam, was deported on the same transport.
But the promise of a retirement home in the ghetto was a delusion: on 6 September 1943, Rosa and Jakob were transported from Theresienstadt Ghetto to Auschwitz; they were murdered on 9 March 1944. Milton remained in Theresienstadt until 9 October 1944. He was then transported to Auschwitz and murdered upon arrival. Rosa was 56 years of age, Jakob, 60, and Milton, 58.
*****
After the war, someone set up a gravestone for Malwine in the Coburg Jewish cemetery. Curiously, it honours Bella and Milton Wertheimer, but makes no mention of Rosa or Julius. To date, we have not been able to confirm who sponsored the stone, or when and/or why. While the information about Bella's fate is incorrect, and Milton's incomplete, we believe it reflects what was known at that time. It has taken a long time for the transport to Belzyce Ghetto to have been identified and recognized.
Once in the United States, the family of Julius Wertheimer lived in New York City. Their memories focused primarily on Coburg where sons Heinz and Alfred had been born and grew up. Since their paternal grandfather, Nathan, lived with them in Coburg until 1934 and then moved to Dessau, it's possible that the boys only rarely, if ever, visited Themar to visit other relatives. They may never have heard of Themar.
In early 2013, when a granddaughter of Julius Wertheimer contacted us, knowledge of the Marisfeld/Themar background came as a surprise. She wrote:
"I stumbled on to this website a few weeks ago as I was doing some research on Coburg, my father, Henry Wertheimer's birthplace.
     For a long time I had no idea that my grandfather had siblings that died in concentration camp, let alone knowing that he even had siblings. 
     My father died in 1991. My uncle Alfred Wertheimer is still alive and is doing quite well at 83 years old. He has no memory of his father having siblings,. . "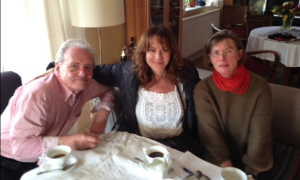 We of course were pleased to meet a Wertheimer! Pam (center in photo at left) set off for Germany later that year and included Marisfeld and Themar in her tour. Sadly, her uncle, Alfred Wertheimer, died in 2015.
If you have any information or questions about the Nathan & Malwine (née Frankenberg) Wertheimer family, which you would like to share, please contact Sharon Meen @ s.meen79@gmail.com or smeen@mail.ubc.ca. We would all be pleased to hear from you.
*****
Below is the Descendants List for the family of Nathan & Malwine Wertheimer.
Nathan WERTHEIMER, b. 18 Oct 1859 Marisfeld, d. 18 Oct 1935 Dessau
∞ Malvine FRANKENBERG, b. 19 Oct 1859 Marisfeld, d. 02 Oct 1926 Coburg
     1. Julius WERTHEIMER, b. 27 May 1886 Themar, d. Jul 1971 NY/NY
     ∞ Käthe MEINSTEIN, b. 19 Feb 1896 Zirndorf, d. 12 Aug 1990  NY/NY
          2. Heinz WERTHEIMER, b. 18 May 1926 Nürnberg, d. 03 Sept
          1991 NY/NY
          2. A. WERTHEIMER, b. 1930 Coburg, d. 2015 NY/NY
     1. Rosa WERTHEIMER, b. 07 June 1887 Themar, murdered
      09 Mar 1944 Auschwitz
     ∞ Jakob EDELMUTH, b. 14 Jan 1884 Beuern, murdered 09
      Mar 1944 Auschwitz
     1. Bella WERTHEIMER, b. 17 Dec 1890 Themar,
      1942/Belzyce Ghetto, verschollen
     ∞ Milton WERTHEIMER, b. 17 Mar 1886 Themar, murdered
     11 Oct1944 Auschwitz
Acknowledgments: We wish to thank
1. the family of Julius Wertheimer who have provided information, documentation, and the images of Stadtarchiv Coburg records.
2. Dr. Bernd Ulbrich of Dessau and the Stolpersteine initiative of Dessau.
3. Ms. S. Rodriguez Pereira, a volunteer at the Dutch Digital Monument, for providing the information about Milton Wertheimer in Amsterdam.
Sources:
Alemannia-judaica Friedhof, Coburg.
Ancestry.com. U.S., World War II Draft Registration Cards, 1942 [database on-line]. Provo, UT, USA: Ancestry.com Operations, Inc., 2010.
Deutsches Bundesarchiv, Gedenkbuch.
Gedenkkultur Dessau-Rosslau.
Stadtarchiv Coburg. Registerblatt für das Wohnungsregister Coburg.
Werkstatt Gedenkkultur. STOLPERSTEINE für Dessau-Roßlau Ein Beitrag zur lokalen Gedenkkultur. Dessau, 2008.